God Provides!
09 September 2014
Here is a special feature from our Hartford North End Corps Officers, Lieutenants Allison and Damon Bethel, as they reflect on their first two months.
Supporting Healthy Aging
08 September 2014
PAWTUCKET - On September 6, Salvation Army EDS teamed up with other local organizations to participate in the Relay for Healthy Aging.
Children Given Tools to Succeed
26 August 2014
NORTHWEST HILLS – Many school-aged children from Torrington and Winsted now have the tools they need to return to school, ready to learn.
Camp CONNRI's First Military Kids Camp
14 August 2014
ASHFORD - Singing and waving the American flag culminated the first day of our Military Kids Camp at the beautiful Camp CONNRI on Monday, August 11.
New London Distributes School Supplies
13 August 2014
The Salvation Army in New London helped many children and families by providing school supplies and backpacks thanks to Goldy's and other generous support.
New Emergency Disaster Services Director Hired for The Salvation Army in Southern New England
12 August 2014
CONNECTICUT & RHODE ISLAND - The Salvation Army's Southern New England Division has hired a new Emergency Disaster Services Director - Richard A. Wildman.
Class of 2014 Marches On!
11 August 2014
HARTFORD – The Salvation Army's Early Child Care Program, The Right Place, just completed another successful year as it graduated 63 children in Harford.
Meriden Children's Festival Celebrates
11 August 2014
MERIDEN - The Salvation Army held its annual Children's Festival to help students and parents get ready for the start of a new school year and to have fun.
Nancy Wyman Visits CONNRI Lodge
07 August 2014
ASHFORD - Seniors on a CONNRI Lodge Senior Retreat were visited by Lieutenant Governor Nancy Wyman at our 272-acre location in Ashford, Connecticut.
Another Great South Marshall Street Block Party
31 July 2014
The Salvation Army's South Marshall Street Block Party in Hartford, Connecticut, was a big success.
New Officers Now Serving!
21 July 2014
HARTFORD – Each year, many officers who serve our locations take on new appointments.
Partners in the Community
17 July 2014 | Author: Adam Zinkievich
In Danbury, the partnership between the Savings Bank of Danbury and The Salvation Army in Danbury has never been stronger.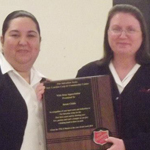 The Glue That Helped Hold The Corps Together
29 June 2014
NEW LONDON - We thank Bessie Childs, Office Manager for New London Salvation Army, as reflects before heading to the West Coast.
Salvation Army Participates in Statewide Disaster Drill
25 June 2014
TORRINGTON - The Salvation Army participated in a two-day, statewide emergency preparedness drill at the Torrington Middle School.
Hot Dogs and Hamburgers - A+
18 June 2014
BRISTOL - Everyone looks forward to the Advisory Board Picnic at Federal Hill Green. Hot dogs, hamburgers, and shortcake are all part of the festivities.
Simsbury High Graduate William Rosario Earns Salvation Army Scholarship
13 June 2014
Simsbury – Simsbury High School Awards Night took place on June 11. There, Salvation Army Major Ferreira presented a scholarship to William Rosario.
Music & Arts Students Win Awards
12 June 2014
STAMFORD - The "Sweetest Place on Earth," Hersey, Pennsylvania, home of Hershey Chocolate, hosted the 30th Annual Salvation Army Star Search competition.
Post Office Delivers...
10 June 2014
DANBURY - America participates in the National Letter Carriers Stamp Out Hunger Food Drive, the largest one-day food drive in the nation.
Donuts and The Salvation Army...
09 June 2014
HARTFORD - The Salvation Army and doughnuts have shared a common heritage. National Donut Day is celebrated annually on the first Friday of June.
Project Complete!
04 June 2014
HARTFORD - The Salvation Army Women's Auxiliary of Greater Hartford funded an activity last summer as part of Elisa Mucci's Girl Scout Gold Award.
An Interview with Former Mayor Michael Pavia
03 June 2014
STAMFORD - The Salvation Army Stamford held their Annual Recognition Breakfast and awarded former Mayor Michael Pavia with a Community Service Award.
Bristol Police, Fire, and Armed Services Hold Food Drive Challenge with ShopRite
26 May 2014
BRISTOL - The 1st Food Drive Challenge held at ShopRite Bristol on May 23 collected over 700 lbs. of nonperishable food items for local food pantries.
Fire Department and Salvation Army Join Forces
21 May 2014
MIDDLETOWN - The Middletown Fire Department and The Salvation Army are celebrating the opening and dedication of Captain Joe's Gym.
Salvation Army to Consolidate Rehabilitation Services
19 May 2014
HARTFORD - The Salvation Army announced it will consolidate its current Adult Rehabilitation Centers (ARCs) in New Haven, Bridgeport, and Hartford.
Dawn Fleming Awarded Employee of the Year
16 May 2014
HARTFORD - Southern New England's Divisional Headquarters held an Employee Appreciation Luncheon and Dawn Fleming was awarded Employee of the Year.
Rebecca Smith and Michael Pavia Honored
12 May 2014
STAMFORD - The Salvation Army of Stamford held its Third Annual Recognition Breakfast honoring Rebecca Smith and former Mayor Michael Pavia.
National Salvation Army Week is Here!
12 May 2014
Typically observed during the second week of May, National Salvation Army Week was first declared by President Dwight D. Eisenhower in 1954.
Women's Auxiliary Spring Luncheon a Success
09 May 2014
HARTFORD - The Salvation Army Greater Hartford Women's Auxiliary Luncheon and Auction was held at the Pond House Cafe on May 8.
New London Recognizes Robert Heal
09 May 2014
NEW LONDON - The Salvation Army of New London would like to express its appreciation to one of its most selfless volunteers, Robert Heal.
Salvation Army Helps Feed the Homeless
06 May 2014
TORRINGTON - For the seventh year, The Salvation Army successfully participated in another Annual Project Homeless Connect Day.